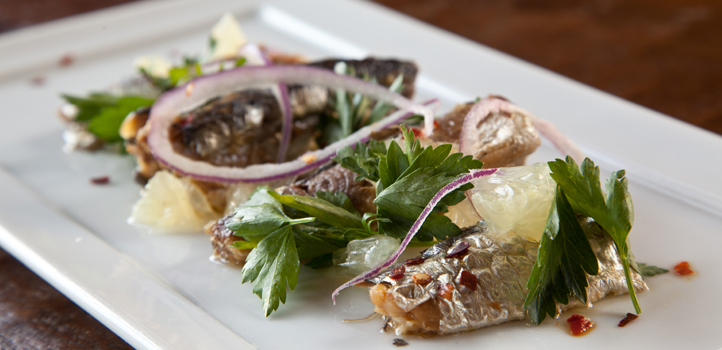 Available from 3:00pm — Close
Nibbles
White Bean and Garlic Spread and Grilled Herb Flatbread — $5.50
Roasted, Salted Marcona Almonds — $3.00
House Made Caramel Corn with almonds— $3.50
Marinated Olives — $4.50
Small Plates
Short Rib Ragù over Penne Pasta Garnished with Parmigiano Reggiano — $7.50
Warm Hummus with Lamb Ragu — $9.00
served with labneh, harissa and pita
Warm Hummus with Roasted Mushrooms — $8.50
served with labneh, harissa and pita
Cambozola with Roasted Garlic and Flatbread — $6.00
Bresaola with Parmigiano Reggiano and Fresh Lemon — $8.00
Braised Short Ribs with Horseradish Glaze and Creamed Potato — $9.00
Sardines with Italian Parsley, Crushed Lemon Salad, Campagnolo Bread and Butter — $8.00
Penne with House Made Basil Pesto Cream and Shaved Parmigiano Reggiano — $6.50
Beet Salad with Arugula and Laura Chenel Chevre — $6.00
Smashed Potato with Cambozola and Olive Oil — $5.00
Charcuterie
with Pickled Mustard Seeds, Sweet and Sour Pickle and Ciabatta
Single Selection — $5 | Sample Three — $13
Wagyu Bresaola – Elevation   |   Denver, CO
Made from high-end wagyu beef, air-dried and salted.
Black Truffle Salami – Elevation   |   Denver, CO
This salami is made with Italian black truffles, high quality sea salt and wine, a true respect to the greatest fungi on earth. Made with 100% humanely raised pork.
Salametto – Fra' Mani     |    Berkeley, CA
A small garlic-scented dry salame seasoned with sea salt, black pepper, red wine, and garlic.
Spicy Uncured Capicollo  |   Fra' Mani
Boneless pork shoulder seasoned with red pepper, garlic, vinegar, fennel seed and black pepper and lightly smoked over natural wood.
Napoli – Olli Salumeria |  Manakin, VA
Napoli Salami is smoked over applewood giving it a complex, hearty flavor traditional to the smoked salami from Naples.
Hot Coppa – Olli Salumeria |  Manakin, VA
Similar to prosciutto, but it's derived from the shoulder or neck rather than the ham & seasoned with chili peppers

Cheese Selections
with Marcona Almonds and Fig Jam and Ciabatta
Single Selection — $5 | Sample Three — $13
Please ask your server about today's cheese selections
Cambozola
Combining the moist, rich creaminess of Camembert with the sharpness of blue Gorgonzola.
Taleggio
The texture of this cow's milk  cheese is moist-to-oozy with a very pleasant melt-in-your-mouth feel.
Morning Star  |  Tillamook  |  Oregon
A very special long-aged cheddar in celebration of 110 years of award winning cheddar.
Original Chabis   |   Laura Chenel
Chabis is a creamy, fresh chevre with a silky texture and a bright, tangy flavor.
Off Kilter  |  Mt. Townsend  |  Port Townsend
A Salish Sea inspiration, we take our semi soft-ripened cheese and wash it with Pike Brewing Company's ìKilt Lifterî Scotch Ale. The result is pungent and earthy with a sweet malty finish. 
Oregon Blue    |    Rogue Creamery   |   Oregon
This wheel is covered in grape leaves that have been macerated in Oregon pear brandy adding a nice fruitiness to the cheese.
Farmhouse White  |  Twin Sisters  |  Ferndale
A true classic table cheese  mellow, creamy with a citrus tang and buttery finish that shows off the  rich jersey cow's milk. Perfect in its simplicity, yet enough depth to make you savor its rich creamy undertones.
Flagship | Beecher's
Beecher's signature cheese, Flagship, is a semi-hard cow's milk cheese with a uniquely robust, nutty flavor.
Gjetost
Dark brown or honey-brown or golden orange in colour with a sweet and caramel-like taste and comes with an unusual, aromatic quality.