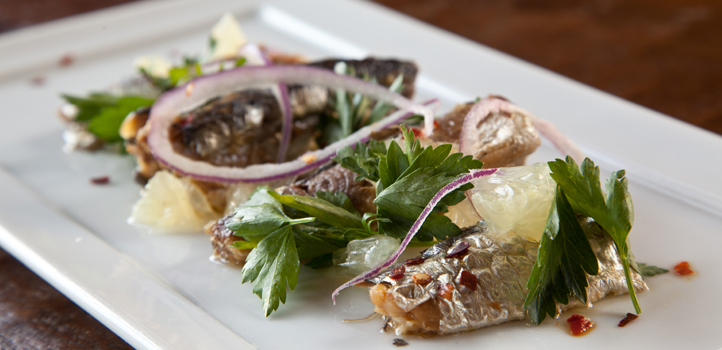 Available from 3:00pm — Close
Nibbles
White Bean and Garlic Spread and Grilled Herb Flatbread — $5.50
Roasted, Salted Marcona Almonds — $3.00
House Made Caramel Corn with almonds— $3.50
Marinated Olives — $4.50
Small Plates
Short Rib Ragù over Penne Pasta Garnished with Parmigiano Reggiano — $7.50
Birria de Res — $6.00
Jalisco-style beef stew with chiles and spices, served with tortilla strips, onion, cilantro and lime
Beecher's Flagship Rillettes — $6.00
with bacon and scallions, served with Grand Central como bread
Cambozola with Roasted Garlic and Flatbread — $6.00
Bresaola with Parmigiano Reggiano and Fresh Lemon — $8.00
Braised Short Ribs with Horseradish Glaze and Creamed Potato — $9.00
Sardines with Italian Parsley, Crushed Lemon Salad, Campagnolo Bread and Butter — $8.00
Penne with House Made Basil Pesto Cream and Shaved Parmigiano Reggiano — $6.50
Beet Salad with Arugula and Laura Chenel Chevre — $6.00
Smashed Potato with Cambozola and Olive Oil — $5.00
Charcuterie
with Pickled Mustard Seeds, Sweet and Sour Pickle and Ciabatta
Single Selection — $5 | Sample Three — $13
Bresaola   |   Principe
A very lean and tender beef that is air dried, salted and aged for months
until it becomes hard and dark red in color
Nostrano – Fra'Mani    |    Berkeley, CA
Coarsely ground, mild and "sweet" in flavor
Wild Boar – Olli Salumeria | Manakin, VA
Made from free-range wild boar, live-trapped in TX. It is a sought-after delicacy and a unique salame.
Spicy Uncured Capicollo  |   Fra' Mani
Boneless pork shoulder seasoned with red pepper, garlic, vinegar, fennel seed and black pepper and lightly smoked over natural wood.
Napoli – Olli Salumeria |  Manakin, VA
Napoli Salami is smoked over applewood giving it a complex,
hearty flavor traditional to the smoked salami from Naples.
Hot Coppa – Olli Salumeria | Manakin, VA
Similar to prosciutto, but it's derived from the shoulder or neck rather than the ham & seasoned with chili peppers.
Cheese Selections
with Marcona Almonds and Fig Jam and Ciabatta
Single Selection — $5 | Sample Three — $13
Please ask your server about today's cheese selections
Cambozola
Combining the moist, rich creaminess of Camembert with the sharpness of blue Gorgonzola.
Taleggio
The squares of pasteurized cow's milk are washed with a brine to foster a sticky, orange edible rind. The texture of the cheese is moist-to-oozy with a very pleasant melt-in-your-mouth feel.
Asiago Pressa   |   Ferndale Farmstead
Whole cow's milk gives this 2-3 month aged version a sharp and grassy flavor.
Original Chabis | Laura Chenel
Chabis is a creamy, fresh chevre with a silky texture and a bright, tangy flavor.
Bloomy   |   Jacob's Creamery  |  Chehalis
A whole milk cheese with a delicate bloom enveloping the rind. A sumptuous buttery rich interior with a slight tang and a hint of mushroom at the finish.
Oregon Blue | Rogue Creamery
In the seasonal version of this cheese, the wheel is covered in grape leaves that have been macerated in Oregon pear brandy which adds a nice fruitiness to the cheese.
Pluvius | Willapa Hills
Basically a cow's-milk blue cheese without the blue and christened after the Greek god of rain.
Flagship | Beecher's
Beecher's signature cheese, Flagship, is a semi-hard cow's milk cheese with a uniquely robust, nutty flavor.
Gjetost
Dark brown or honey-brown or golden orange in colour with a sweet and caramel-like taste and comes with an unusual, aromatic quality.